Do you have a Facebook Brand Page? Are you a local business? Do people recommend your brand or business on Facebook? If yes, Facebook Page Recommendations automated responses can help you enhance the experience. Let's explore this topic now.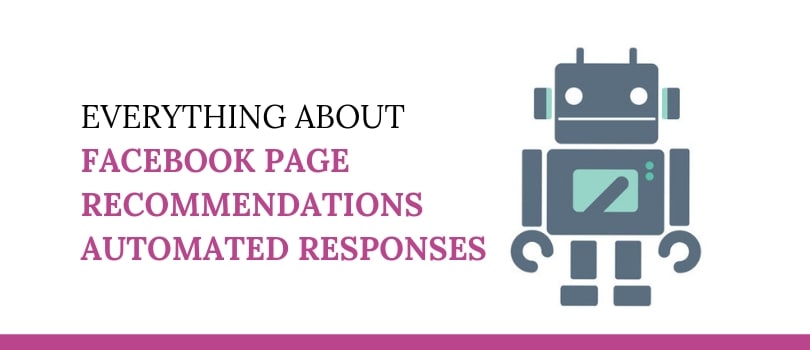 Facebook Reviews Out, Facebook Page Recommendations in
Now, leaving review on the scale of 1 to 5 star on a Facebook Page is a matter of past. Facebook has upgraded reviews to Facebook Page Recommendations.
Users will be able to select either YES recommend or NO do not recommend options under the reviews/recommendation tab. Though, old reviews on a particular Facebook Page will continue to display.
That means, if you have a coffee at a newly opened café near your office; depending on your experience, simply either you will recommend or will not recommend the place on Facebook.
Why Should You Care for Facebook Page Recommendations?
These days' online reviews & ratings make or break the online sale. Further, Facebook Recommendations contribute in the overall Facebook Page Ratings.
Facebook Page Rating is based on how many people recommend or don't recommend your Business Page on Facebook, as well as any past star ratings and reviews it may have.
Remember, only pages that allow Recommendations may show a rating, and a Page may not have a rating if it hasn't received enough Recommendations. Here is the link to turn on Facebook Recommendations on your page, if you have yet not done. If you want to have better ratings, turn the Facebook Page Recommendations on.
However, just like the real world, the person who decides to recommend your business on Facebook or not will have a choice to share it with Friends, Selected Friends or Public. If a person posts a Recommendation and selects Friends as the audience, only his friends will be able to see his Recommendation.
Only Facebook Page Recommendations which are shared publicly get included in a Page's overall ratings.
Advantages of Facebook Page Recommendations
This new Facebook Page Recommendations system is a win-win for both customers and brands. There are many advantages of this system.
Facebook Page Recommendations Give You Additional Reach
If someone recommends your place or product via Facebook Page Recommendations, the post will reach to their friends with name of person recommending it.
If you see your friend is recommending a particular café, you tend to get influenced by this recommendation. In absence of this recommendation, there are chances you would not have heard about the same café ever or at least for quite a long time!
If you happen to miss this recommendation and still land on the Facebook Page of the same café, in community sections you will see how many people are recommending and that will start with name of your friend! This absolutely helps in marketing.
Photos Can Be Shared With Facebook Page Recommendations
There are two ways to recommend a business or brand on Facebook.
First, when your friends ask for it specifically. You can, mention a business in the comment.
Second, when you visit the business physically.
In both the cases, the person giving Facebook Page Recommendation can share images. This is an opportunity to present a glimpse of your business premise. This may help the person in taking decision.
Facebook Page Recommendations Are More Prominent On Page
In new navigation, Facebook Page Recommendations are placed at a very prominent place in desktop and mobile version.
In desktop version, it is just right parallel to where you update your status. On mobile if you scroll the page to watch posts, before reaching to posts section, Recommendations and reviews section is placed. It will tell you Recommended by XX people and give you an option to recommend.
Facebook Page Recommendations with Tags
When someone is recommending a business, he will have an option to choose from pre-generated tags. These tags are generated from past reviews.
So, if you are a café and somebody leaves a Facebook Page Recommendation about a particular type of coffee let's say Iced Coffee, then the next user may have an option to choose that as tag.
That means if more people recommend your business for various products and services, there will be more tags to choose from.
Facebook Page Recommendations Start with Name of Person
When anyone lands on your Facebook Page Recommendations section, they will see recommendations start with real name (the name one has used on Facebook profile). For example, if I recommend some page then it would be 'Kirit JAsani recommends ABC 'and below that will be text if I have specifically mentioned anything about that brand.
Now, my name will be clickable. So, one can track who has given a review. This makes recommendation authenticated as I am a real person and not a robot!
Brands Can Interact With Person Who Leave Facebook Page Recommendations
Facebook Page Recommendations bring an opportunity to interact with the person who recommends. As below the recommendation, brands will see a button titled as 'Message' with an instruction 'Start a private conversation with ABC in Messenger'
With single click on this button conversation will be one-to-one. What a great opportunity for brands on Facebook.
Why Should You Consider Facebook Page Recommendations Automated Responses?
At some point of time, you must have given a compliment to your friends or family members about their looks, clothing style, choice of colour, etc.
If you give a compliment to someone and the person doesn't respond to your compliment, how would you feel?
You might not like it. You might think the person is arrogant. Right!
Exact same feelings can be there to a person who recommends your business but your business doesn't respond to that recommendation.
The simplest thing you can do is, like the recommendation. But, still there are all chances to miss a recommendation. And that is not good.
So, let's automate the responses.
How to Turn on Facebook Page Recommendations Automated Responses
Watch the step by step video below.
Go to your Facebook Page Inbox. On left-hand side you will find Automated Responses. Click That. Now it should bring you to below screen.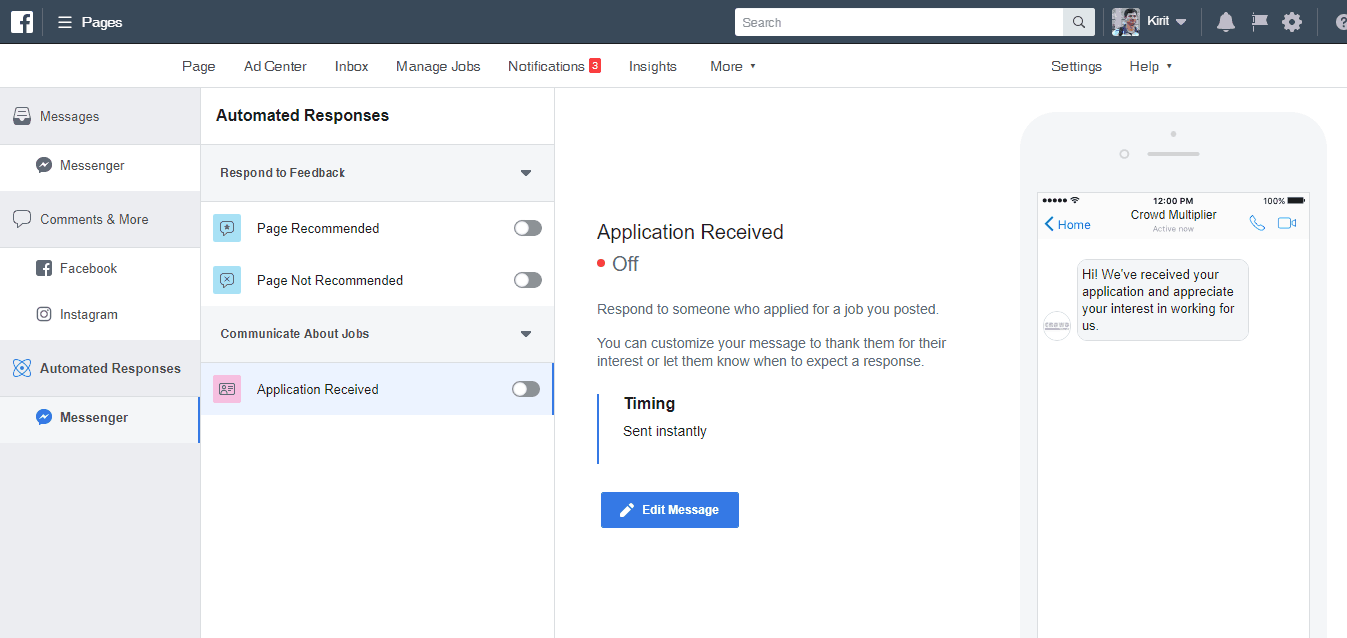 Turn on Page Recommended in respond to feedback section. Now you can edit the default message, even you can personalized it with person's First Name, Last Name, Full Name etc. Here I have done it with First Name.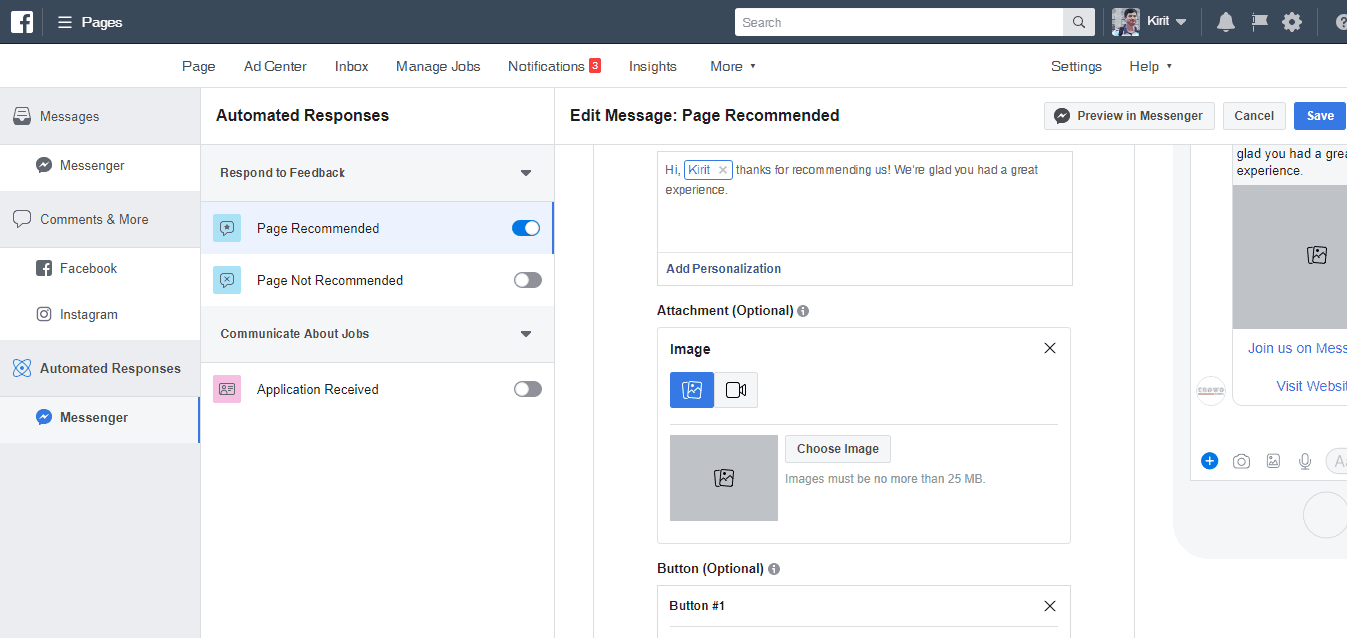 If you want you can do further customization by adding image or video to the response. Here I have added a Thank You image.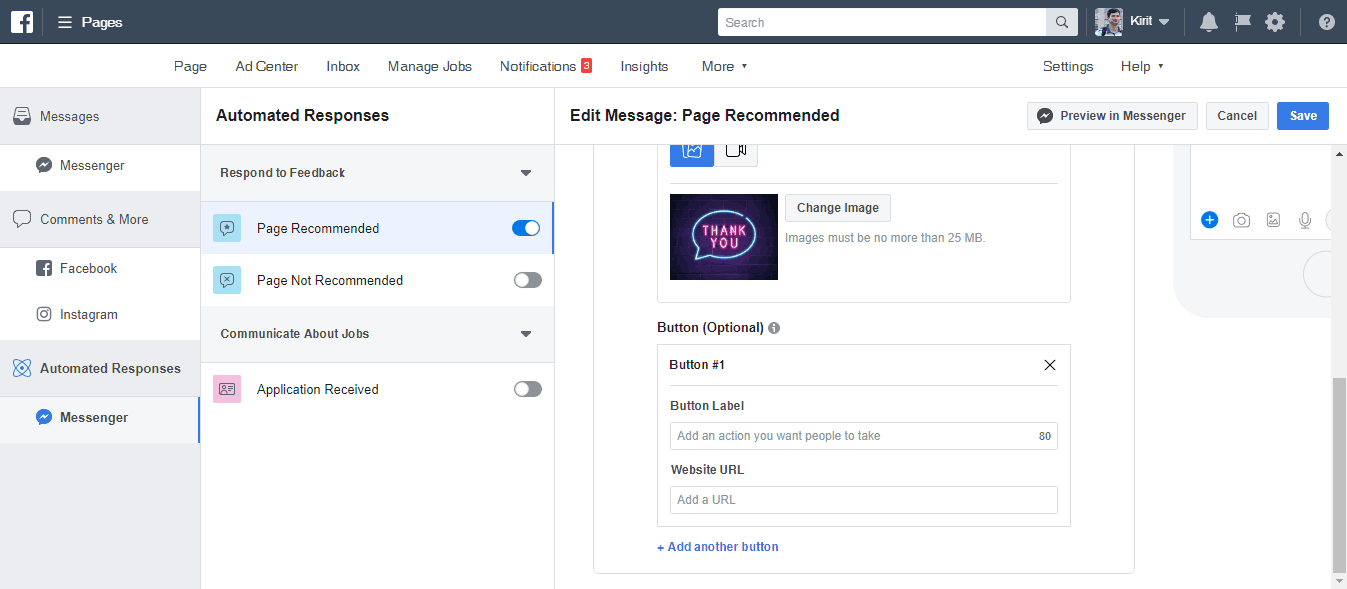 Further, you can add a button to your Facebook Page Recommendation response. With click on this button you can take the respondent to your website or to your Facebook Messenger or other resources on internet.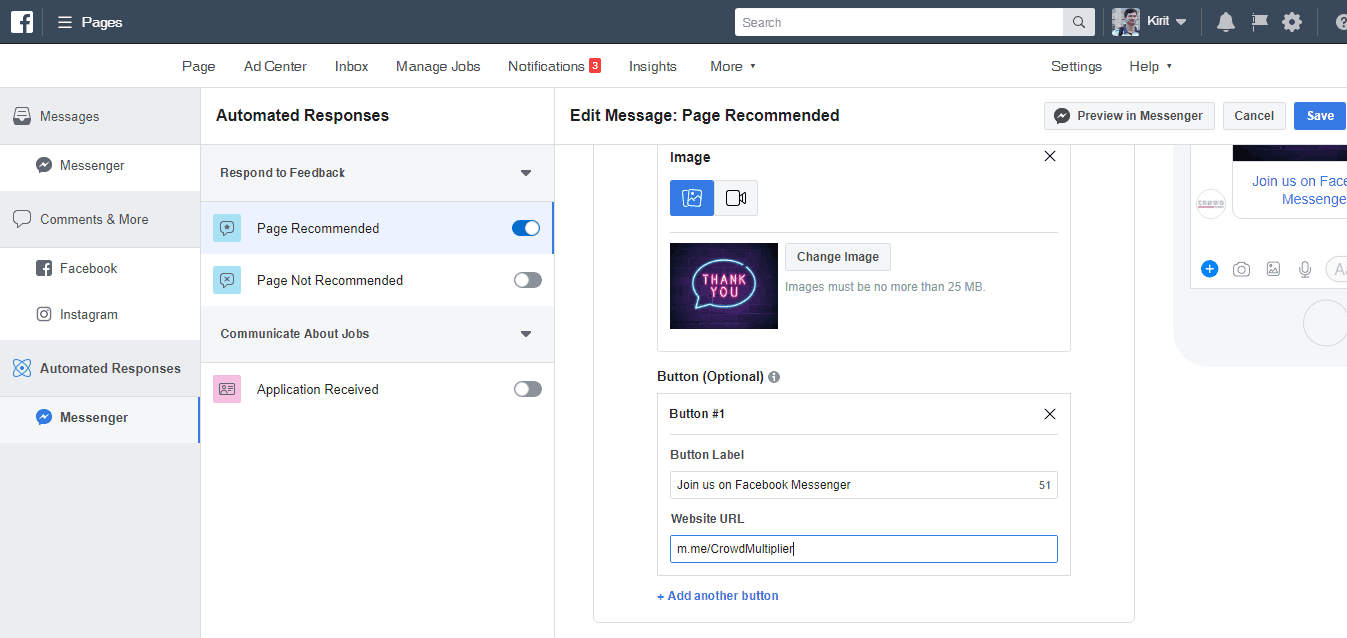 You can check the preview in messenger before final save. Once saved, anyone who recommends your page will get this message as automated response after 10 minutes in their Facebook Messenger. As if now, there is fix lead time of 10 minutes set by Facebook.
The same way you can turn on automated response for Page Not Recommended. The same you can add image, button and customized the message depending on nature of your business. You can provide them with a contact number or email for detailed feedback.
Conclusion
If you turn on automated responses for Facebook Page Recommendations, you can rest assured that each recommendation, with positive or negative feedback, will get a response from your Facebook Page. This way you will have a time to frame a strategy to further interact with them.
Remember, automation is good but ultimately you are serving to humans so at right time there must be human intervention.