In the year 2018, Instagram allowed to use hashtags in bio section. Since then many users have populated their bio section with Instagram Hashtags. So, let's understand what is right and what is wrong about these Instagram Hashtags in bio.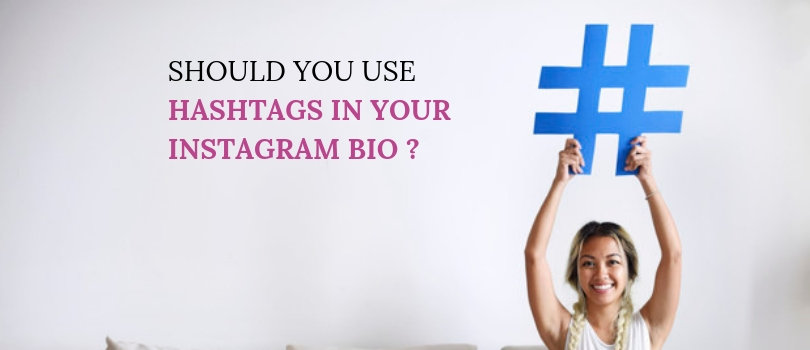 What is Instagram Hashtags?
Instagram Hashtags are represented by # symbol. By placing # in front of a word or a series of a word without space, will turn that word or series of word into meta tag and that word becomes live links.
If you are running a bakery and you post content with #BlackForestCake immediately this series of word becomes hashtag and it will be clickable.
Why Do People Use Instagram Hashtags?
Instagram Hashtags are used to draw attention and organize content.
The moment you notice # this symbol in content, it tells your subconscious mind, it's something special. And that leads your conscious to check whether it is useful or important to you or not. I mean, it catches attention.
As mentioned above, if you click #BlackForestCake in some of the Instagram post, it will take you to a hashtag page where all photos and videos will be visible in which people have used #BlackForestCake.
Should I Use Hashtags in My Instagram Bio Section?
The frequently asked question, do hashtags work in Instagram Bio?
There is no simple answer to this question, as the answer is Yes and No both!
Let's explore the no part first.
If you are using Instagram for business, I would advise to avoid generic Instagram Hashtags in your Instagram Bio just like #BlackForestCake.
Because click on this hashtag will take the user to content of thousands of people and businesses who are probably doing something related to Black Forest Cake. Some of them can be your competitors too! I don't see a reason to take your visitor to someone else's content, especially to a competitor's.
There is a myth that Instagram Hashtags in Bio help when someone is searching for that term. As I mentioned, this is only a myth.
Because, when someone is searching on Instagram, the platform only scans two fields and they are Name and Username. So, your Instagram Hashtags inside your Instagram Bio has no impact on search results. So, why to waste your precious 150 character space?
Now look at the Yes side.
Once you add Instagram Hashtags into your Instagram Bio, with single click your profile visitors will be able to see all the content related to that particular hashtag. So, select a hashtag which no other company will use, especially your competitors.
So, add only branded hashtags in your Instagram bio! This will make your Instagram Bio more interesting and you should be able to take your profile visitors to a useful branded content.
For example, when I use Instagram Hashtag as #CrowdMultiplier in my person Instagram Bio, with a click on this hashtag profile visitor will be able to see all content related to that hashtag.
Here is the detailed video on Instagram Hashtags in Bio Section. Let's see how it works in practical world.
Things to Remember For Instagram Hashtags in Bio?
If a private profile person uses Instagram Hashtag which you are searching, they will not appear on public hashtag pages.
You can create your branded hashtag with numbers but usage of $ and % is not supported.
You have only 150 characters in your Instagram Bio so don't stuff it with branded hashtags.
Conclusion
If Hashtags are used strategically in Instagram bio section, they can facilitate the marketing objectives. But, if you start using them without a clear goal in mind it will lead you nowhere. So be judicious while using hashtags in your Instagram bio.